This berry cake recipe has to be one of the most magnificent cakes – ever. Just look at it.

The intensely flavoured berry cake itself is spectacular. Layers and layers of delicious bright pink-hued cake.
The pink colour is from powdered freeze dried raspberries which is an inspired addition to any berry cake recipe.
Add to all this pink berry cake deliciousness, almond brittle dust, almond crunch, some fresh berries and a cloud of the best meringue icing you'll find anywhere and you have a cake that's sure to impress.
The meringue icing is absolutely swoon-inducingly divine. I want to cover all my cakes in this forever. Actually I want to cover everything in this meringue icing to be honest.
This is a baking challenge if ever I've seen one. But be brave. Go forth and conquer this recipe. You'll be rewarded.
Glorious.
The cake genius behind this Berry Cake recipe with Meringue Icing is Hungry Rabbit.
Is this perhaps more of a baking challenge than you want for today?  How about this somewhat easier but equally as pretty Recipe for Hummingbird Cake with Cream Cheese Frosting and Raspberries.

Berry Cake recipe with Meringue Icing Recipe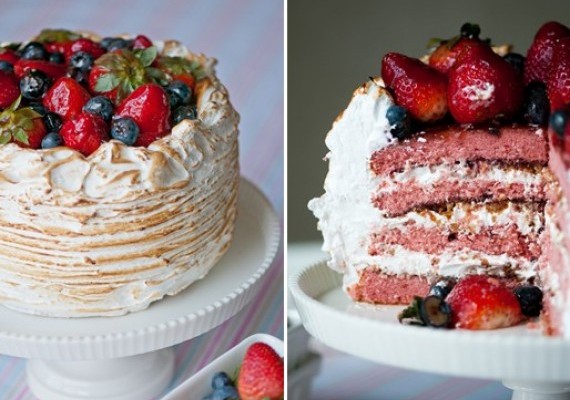 Ingredients
For the Cake:
1 cup plus 2 tablespoons cake flour (4-1/2 ounces), plus more for dusting the pans
½ cup whole milk, at room temperature
3 large egg whites, at room temperature
1 teaspoons almond extract
½ teaspoon vanilla extract
¾ cup plus 2 tablespoons granulated sugar (6-1/8 ounces)
2 tablespoons freeze dried raspberry powder
2 teaspoons baking powder
¼ teaspoon fine sea salt
6 tablespoons unsalted butter, softened
½ cup strawberry or raspberry preserve
1 quart combination of strawberries, blueberries and/or raspberries
For the Almond Brittle Dust:
½ cup of granulated sugar (7 ounces)
¼ cup sliced almond
For the Almond Crunch:
⅓ cup almond paste, not marzipan
2 tablespoons unsalted butter, melted
1 recipe of almond brittle dust
1-1/2 cups feuilletine (praline)
¾ cup confectioners' sugar (3 ounces)
½ teaspoon kosher salt
For the Meringue Icing:
2 large egg whites
1 cup granulated sugar (7 ounces)
¼ cup water
1 tablespoon lemon juice, freshly squeezed
1 tablespoon corn syrup

Happy baking!