A recipe with a difference, this Mango Mousse Cake will rock your world. If you're looking for a summery tropical treat, you simply must give this a try.

First up, the layers of tropical and exotic sweet mousse. It's basically mangoes, cream and sugar. Only use sugar if you want to sweeten the mousse. I usually don't add sugar unless the mangoes are a little too tart. The mousse is simple but utterly delicious. You could eat it all by itself no problem.

While you can use fresh mangoes if you have access to them, frozen mangoes works just as well and are available all year round.
I can't tell you how many times this mango cake has been requested in the middle of winter with not a fresh mango to be seen. Seasonal produce people!
The cake itself is light (as you would expect from a sponge cake). The basic vanilla sponge is perfect for allowing the tropical mousse to shine. The cakey texture against the velvety mousse is heaven. There's as much mousse as sponge and the balance is just perfect.
For such an impressive looking, and tasting cake, this is pretty easy to make. The trick to a layering your cake like the photo (and I really recommend that you do try the layered version as it gives you that perfect sponge cake to mousse ratio), you need to chill each layer of mousse to firm it up before you add the next layer of cake. Otherwise you will squish the mousse and won't end up with the spectacular defined layers as pictured here. It will still be delicious – just a bit more squishy.
If you're a mango fan like I am, decorate the top with extra slices of fruit. No such thing as too much mango in my world.
This wonderful recipe was first posted by a site called Dodgy Dumpling which is, sadly, no longer online. We've reproduced the recipe for you below.
Thanks very much to reader Sandra who helped me out with this one! You're a star Sandra!

Mango Mousse Cake Recipe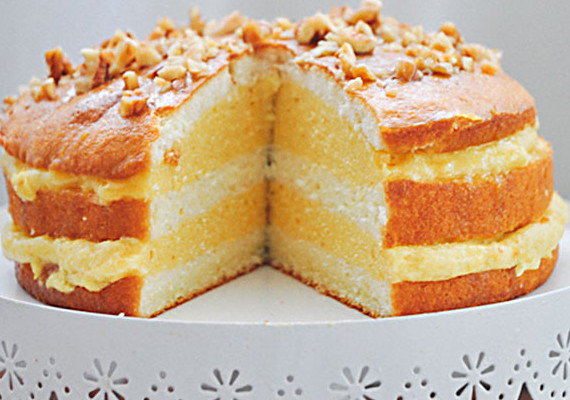 Ingredients
For the Sponge Cake:
2 eggs, separate
40+30g caster sugar
¼ tsp cream of tartar
50g milk
24g corn oil
½ tsp vanilla extract
¼ tsp baking soda
68g cake flour
For the Mango Mousse:
17g gelatine powder
60g hot water
350g whipping cream
300g mango puree
caster sugar to taste
Instructions
***For the cake***
Step 1 - Beat egg whites (room temp), 40g castor sugar and cream of tartar until stiff and glossy peaks form.
Step 2 - Beat egg yolks and 30g castor sugar until thick and pale.
Step 3 - Add milk, oil and vanilla extract and mix well.
Step 4 - Sift flour and baking soda.
Step 5 - Fold in the egg yolk mixture until incorporated, and then fold in the egg whites.
Step 6 - Bake 340F / 170C for 30 - 35 minutes. A toothpick should come out clean and cake should spring back.
***For the Mango Mousse***
Step 1 - Dissolve the gelatine powder in hot water.
Step 2 - Whisk whipping cream till mousse-like.
Step 3 - Sweeten (or not), the mango puree with castor sugar, 1Tbsp at a time.
Step 4 - Stir the gelatine mixture into the mango puree. Fold this mixture into the whipping cream and chill for 20 minutes before spreading.
Step 5 - If you are layering your cake, chill each layer after spreading for at least 10 minutes before stacking.
(Where tsp = teaspoon and Tbsp = Tablespoon)