This Norwegian Apple Cake is a wonderful, warming, golden apple-ly treat. Spiced with vanilla, cinnamon, cardamom and toasted almonds this is a simple apple cake recipe for that's deliciously wholesome.
Well, deliciously wholesome until you add the ice-cream, cream, custard (or all of the above).
I love baking apple cakes. When I have a plentiful supply and am looking for fresh apple recipes, cake is pretty much at the top of my recipe list. Apple cakes are as heartwarming and comforting as apple pie, but much easier to bake. Try for yourself – you'll be a convert to apple cake too.
The baking whiz behind this Norwegian Apple Cake is Rosa's Yummy Yums.
If you're looking for another recipe for apple cake with fresh apples, have you seen this French Apple Cake?

Norwegian Apple Cake Recipe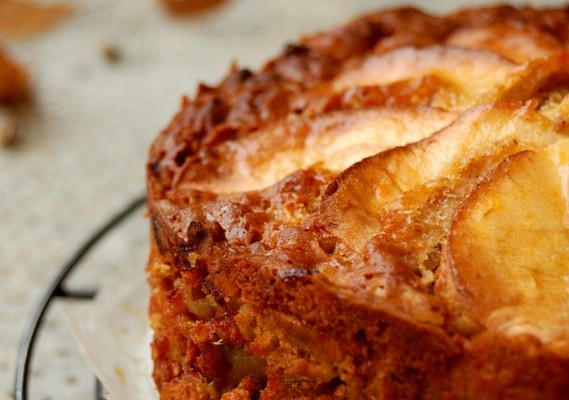 Ingredients
1 Egg (63g)
2 Tbs Milk
¾ Cup (158g) Castor sugar
1 Tsp Pure vanilla extract
1 Tsp Baking powder
⅓ Tsp Fine sea salt
1 Tsp Ground cinnamon
⅓ Tsp Ground cardamom
½ Cup + 3 Tbs (158g) All-purpose flour
½ Chopped almonds/or almond sticks (50g), toasted
3 Medium-sized tart apples