A lovely pomegranate cake with a difference.
This is a  gorgeous recipe where a basic flourless chocolate cake is turned into something more exotic with the addition of pomegranate. There's a good splash of pomegranate syrup in the cake batter as well as those beautiful ruby-red pomegranate seeds on top of the cake.
Don't think the chocolate is the star. It's the pomegranate that shines here.
This is one of those chocolate cakes where you separate the eggs and fold the mixture into the stiffly beaten egg whites. Not hard at all. The top of the cake will sink a little and crack too (you sometimes see these types of chocolate cake recipes referred to as "Cracked Chocolate Earth" cakes and similar). Don't worry about it – it's how it's supposed to look.
And this magnificent cake is all gluten free. Talk about a crowd pleaser.
This recipe shows us a very elegant yet simple way to decorate a cake.  The colour combination is just lovely. The dark chocolate cake against the intense red of the pomegranate seeds reminds me of jewels sitting on dark velvet (better because you can eat these). Be generous with the pomegranate seeds for maximum impact.
The delicious Kumquat shares this fabulous recipe for Flourless Chocolate Pomegranate Cake.

Pomegranate Cake Recipe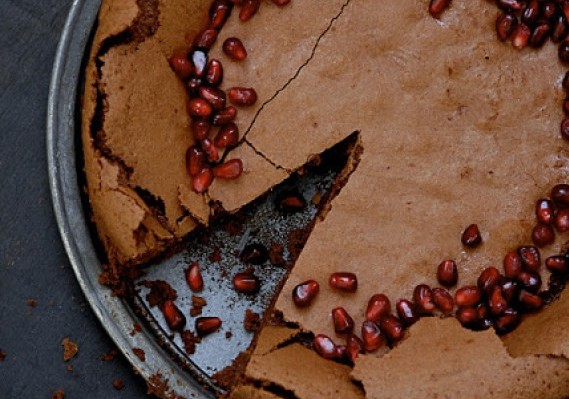 Ingredients
16 ounces semisweet baking chocolate
1 cup unsalted butter
1 tablespoon fresh pomegranate juice
⅛ teaspoon salt
8 large eggs, separated
1½ cups sugar
Fresh pomegranate seeds

Happy Baking!