An incredibly moist blueberry banana cake recipe that is just bursting with flavour.

And don't even think of skipping the cream cheese icing. It's utterly divine and takes this cake to a whole new level.
This is a wonderfully simple cake that tastes fantastic, is very easy cake to bake, comes together in one bowl and will use up those old bananas that are hanging around – what's not to love?
There's a great trick in the recipe that ensures the cake is extremely moist. You pop the freshly baked cake into the freezer for a while. Just inspired.
This Banana Blueberry Cake recipe is from the clever folk at The Kitchn.
Are you looking for more amazing banana cake recipes like this one? We have many to share in the Banana Cake Recipe Collection.

Blueberry Banana Cake Recipe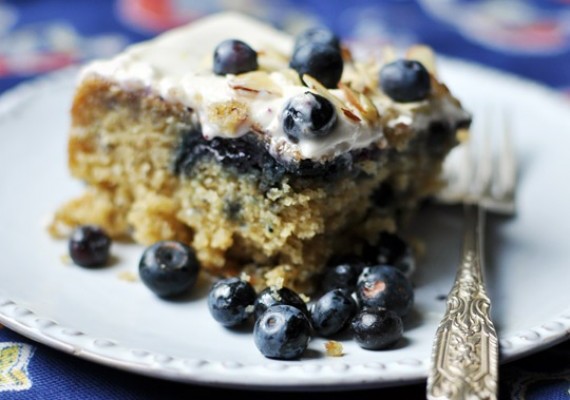 Ingredients
For the Cake:
¾ cup unsalted butter, softened
1 cup white sugar
1 cup brown sugar
3 eggs
1 teaspoon vanilla extract
2 tablespoons rum (optional)
1½ cups mashed bananas (about 3 bananas)
3 cups flour
1½ teaspoons baking soda
½ teaspoon salt
1 lemon, juiced and zested
1½ cups milk
2 cups blueberries
For the Cream Cheese Icing:
¼ cup butter, softened
1 (8 ounce) package light cream cheese, softened
1 teaspoon vanilla extract
1 tablespoon rum (optional)
3 cups confectioners' sugar
Pinch salt

Happy baking!