A simple recipe for a luscious Banana Upside-down Cake. If you like your banana cakes bursting with banana flavor, this cake is for you.
With an ooey-gooey caramelized banana topping above a moist banana cake base, this is one serious banana treat.
That's one of the reasons I like this upside-down banana cake recipe – it's an absolute frenzy of banana!
Unlike many upside-down cake recipes, the fruit (in this case bananas) are first caramelized in brown sugar and butter in a saucepan and then transferred to the cake pan. The cake batter, which is lightly spiced with cinnamon and nutmeg, includes another three bananas. That's four-and-a-half bananas in one cake!
While you should use ripe to over-ripe bananas for the cake batter, use normally ripe bananas for the caramelized topping. They hold their form better when you caramelize them and they look better on top of the cake too.
If you don't have any over ripe bananas but you just can't wait to make this Banana Upside-down Cake (or indeed any baked banana treat), did you know that you can ripen bananas by zapping the whole banana in the microwave for one minute. Allow the banana to cool completely in its skin (about an hour) and then peel and use as per normal in your recipe. The heat activates the natural sugars in the banana which makes it seem to have ripened more fully.
It's a handy little trick when you want to tip a banana to the other side of ripeness – but it won't take a green banana and make it ripe enough for baking. You'll just have to be patient…
As with all upside-down cakes, be sure to de-pan the cake while it is still warm. Let the cake sit for 10 minutes out of the oven before inverting it onto your plate or cake stand. If you don't de-pan while the cake is still warm, it's likely to stick and we all know how incredibly annoying that can be.
This banana frenzy Banana Upside-down Cake recipe is shared by the lovely Elisa over at The Cinnamon Sheep.
You know by now that I love upside-down cake recipes – take a peek at my full collection here.

Banana Upside-down Cake Recipe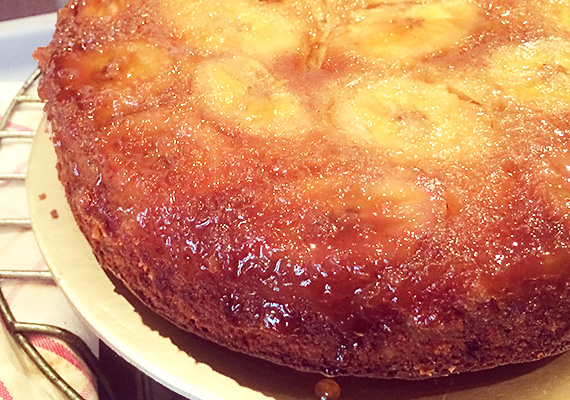 Ingredients
For the caramelized banana topping:
2 tbsp unsalted butter
40g brown sugar
1 ½ bananas, sliced
For the banana cake:
1 ½ cup all-purpose flour
1 ½ tsp baking powder
¼ tsp salt
½ tsp cinnamon
½ tsp nutmeg
50g unsalted butter, melted and cooled
250g white sugar
50g brown sugar
2 eggs
1 ½ tsp vanilla extract
3 bananas, mashed
60ml milk