This Yogurt Cake with Pomegranate Syrup is an easy cake with a taste of the exotic.

This beautiful moist yogurt cake is gently spiced with freshly ground cardamom and crowned with pomegranate syrup and seeds to finish. Spectacular.

Remember when you seed your pomegranates, the juice stains everything – from your hands to your clothes and your kitchen cutting boards. There are quite a few video tutorials on You Tube of different techniques. I usually tackle a few pomegranates at once as you can freeze the seeds. Just make sure the seeds are dry and arranged in a single layer on a sheet of waxed/non-stick paper. Freeze them like this first and then once they are hard you can transfer into a container to keep in the freezer.

I originally found this recipe on a blog called Tasteful Tart which is sadly no longer online. I've copied the recipe below so we don't lose this great recipe forever.

 


Yogurt Cake with Pomegranate Syrup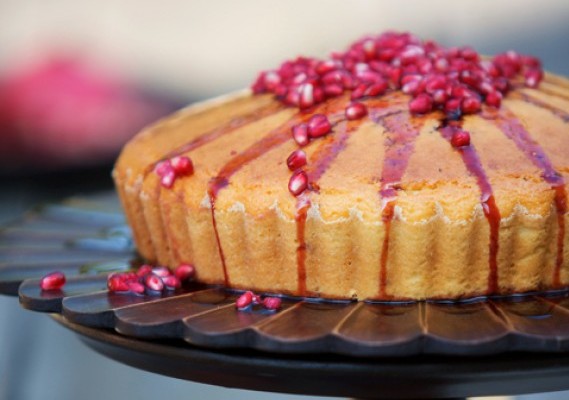 Ingredients
3 cardamom pods
4 oz semolina flour
4 oz all purpose flour
1 tsp baking powder
6 oz superfine sugar
5 oz low fat natural yogurt
2 eggs
½ tsp vanilla essence
10 fl oz pomegranate juice
1 pomegranate (but buy a few in case some are light on seeds)
Instructions
Preheat oven to 350F.
Crush cardamon pods, remove the seeds (discard the husk) and grind them in a pestle
and mortar. Place in large mixing bowl.
Add to the bowl the semolina flour, all purpose flour, baking powder and 4 oz of the
caster sugar. Mix together well.
Beat the yogurt, eggs and vanilla essence together (I used an electric hand mixer)
and add to the flour mixture, blending until smooth. Pour into a well greased 9" cake pan
and bake for 30 minutes or until a wooden stick inserted into the middle of the cake
comes out clean.
While the cake is cooking, put pomegranate juice into a saucepan and heat to boiling,
turn down to a slow boil and reduce by half. The recipe says to add the rest of the
sugar at the end and just dissolve it but I wanted the syrup thick and sticky so I added
the 2 oz of caster sugar while the liquid was boiling and reducing. This way I got a
lovely syrupy mixture.
Remove the seeds from the pomegranate(s) and add to the syrup. When the cake
comes out of the oven, allow it to cool, turn out onto desired plate and pour the syrupy
sticky goodness all over the top.