A Peanut Butter Cup Cake that is truly phenomenal. If you want a peanut butter cake recipe to knock their socks off, this has got to be a contender.

I can feel an overdose of superlatives coming on (and possibly a sugar induced coma).

But there's just so much to love about this masterpiece of a cake. Layers of chocolate brownies, a filling of peanut butter cream cheese mousse, chocolate ganache and chopped up peanut butter cups.
I mean – just look at all that peanut butter cake goodness – gooey, creamy, chocolatey, peanut butter cup goodness. Are you licking your screen yet?
This Peanut Butter Cup Cake is rich. Very very rich. Extremely rich. Exceedingly rich. But since when did that stop us right? And you can always have just a little piece (good luck with that once you taste it!)
The chocolate brownies provide a good firm structure and base from the rest of the elements. They are a little bit chewy too which adds a good texture contrast, especially to the creamy mousse. The peanut butter cream cheese mousse is a breeze to make in an electric mixer (and you get to lick the beaters too).
I think the mousse is the key to why this Peanut Butter Cup Cake recipe works so well. The airy whipped texture lightens the cake and the cream cheese stops the peanut butter and the chocolate from being just too intense and cloying.
Overall, the cake is pretty easy to make. Chopping up peanut butter cups is hardly taxing and drowning the tower of deliciousness in chocolate ganache is child's play. It's a great dessert to make in advance too – prepare all the elements separately and assemble just before you serve it.
If you're wondering how to store left-overs don't. There won't be any – guaranteed.
The super talented Culinary Concoctions by Peabody is the creative baking mastermind behind this Peanut Butter Cup Cake. Go worship at her altar (I mean blog).

Peanut Butter Cup Cake Recipe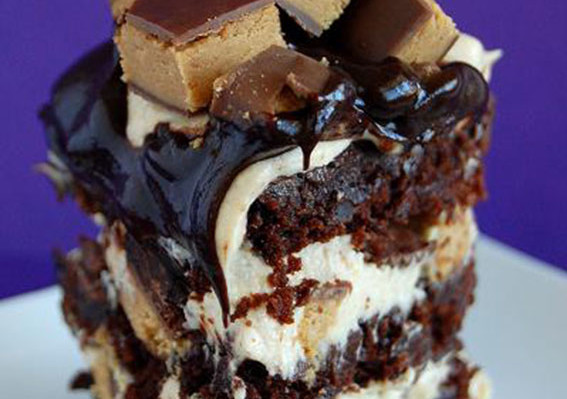 Ingredients
For the Brownies:
7 TBSP unsalted butter, melted
1 cup granulated sugar
1 egg
1 egg yolk
½ tsp vanilla extract
¼ cup cocoa powder
½ cup all-purpose flour
¼ tsp baking powder
pinch of salt
½ cup semi-sweet chocolate chips
For the Peanut Butter Cream Cheese Mousse
½ cup whipping cream, chilled
5 ounces cream cheese, at room temperature
⅓ cup plus 2 TBSP powdered sugar
⅓ cup peanut butter
For the Chocolate Ganache:
4 ½ ounces semi-sweet chocolate, chopped finely
½ cup heavy whipping cream
Plus as many peanut butter cups as you fancy (around the 15 mark should do it)


Looking for other peanut butter cake recipes? How about this simpler (but still delicious) Peanut Butter Pound Cake.