This Strawberry Cream Cheese Cake is an utter delight. Four distinct layers of delight to be exact.
First there is a lovely buttery cake base. With generous amounts of sour cream, this cake layer is light and moist and oh-so delicate.
Next we have a thick layer of silky cream cheese followed by a sweet jammy topping made with fresh strawberries. Cream cheese and strawberries are a match made in heaven. Add cake into that equation and it's all good – very, very good.
Top these layers of cake, cream cheese and strawberry with a delicious crumb topping and this is a coffee cake you'll remember.
For such a wonderful looking and tasting treat, this is a very easy cake to pull together. You can also substitute whatever berries you like – no strawberries, how about blueberries or raspberries? No fresh berries – use frozen. Or if you don't have any berries, use a good quality berry jam spread thickly for delicious results.
The talented Joan's Food Wanderings shares her very special Strawberry Cream Cheese Cake recipe.

Strawberry Cream Cheese Cake Recipe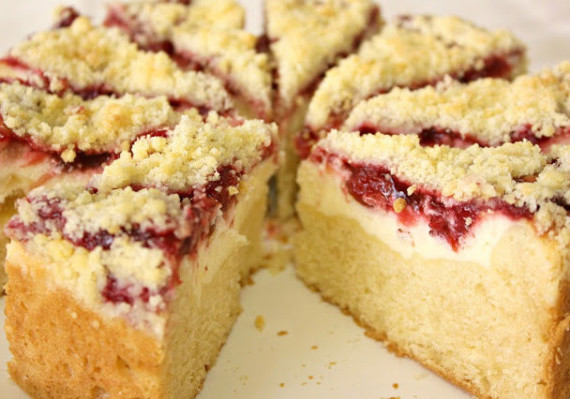 Ingredients
For the Butter Cake and Crumb Topping:
2 cups all purpose flour
¾ cup sugar
½ cup butter, cold and cut into chunks
½ tsp baking soda
½ tsp baking powder
¼ tsp salt
¾ cup sour cream (full fat)
1 large egg
1 tsp vanilla extract
For the Cream Cheese Filling:
1 - 8oz cream cheese, room temperature
¼ cup sugar
1 large egg
For the Strawberry Filling:
1½ cup fresh strawberries, cut into pieces
3 tbsp sugar
3 tsp water
1.5 tsp cornstarch