Peanut Butter Chocolate Cake. Need I say more? Ok – how about chocolate layer cake, peanut butter frosting and peanut butter chocolate glaze?

Let's have a closer look at this peanut butter chocolate cake slice of heaven. The cake has layers of light, moist chocolate cake made with unsweetened cocoa powder and sour cream. The recipe uses an old trick of adding vinegar to the chocolate cake which reacts with the other cake ingredients to make for a lighter, fluffier cake.
But make no mistake, the star here is the peanut butter frosting.
The frosting is made with butter, sour cream and icing sugar and smooth peanut butter, it is an extreme peanut butter experience. But you probably wouldn't be reading this recipe unless you were looking for a peanut butter extravaganza. The frosting is thickly applied between the layers of chocolate cake and it also covers the entire outside of the cake.
The peanut butter cake party continues with a divine chocolate peanut butter glaze.
With semi sweet chocolate and more smooth peanut butter, this glaze works really well to pull in the flavours together. Until the glaze, the chocolate has been separate from the peanut butter. There's no peanut butter in the chocolate cake and no chocolate in the peanut butter frosting. The glaze combines both the chocolate and peanut butter flavours and ties the cake together beautifully.
This great version of Peanut Butter Chocolate Cake is baked with love by Sugar Cooking.

Peanut Butter Chocolate Cake Recipe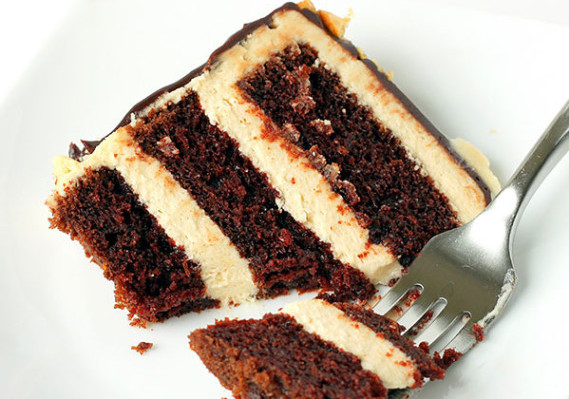 Ingredients
For the Cake:
2 cups all-purpose flour
2½ cups sugar
¾ cup unsweetened cocoa powder, preferably Dutch process
2 teaspoons baking soda
1 teaspoon salt
1 cup neutral vegetable oil, such as canola, soybean or vegetable blend
1 cup sour cream
1½ cups water
2 tablespoons distilled white vinegar
1 teaspoon vanilla extract
2 eggs
½ cup chopped peanuts, for decoration (optional)
For the Peanut Butter Frosting:
10 ounces cream cheese, at room temperature
1 stick (4 ounces) unsalted butter, at room temperature
5 cups confectioners' sugar, sifted
⅔ cup smooth peanut butter, preferably a commercial brand (because oil doesn't separate out)
For the Chocolate-Peanut Butter Glaze:
6 ounces seimsweet chocolate, coarsely chopped
3 tablespoons smooth peanut butter
2 tablespoons light corn syrup
½ cup half-and-half