Cake doesn't get much cuter or tastier than these Mini Lemon Bundt Cakes.

These adorable mini bundts are full of the sparkling flavour of lemons. While the recipe uses lemon zest and either lemon extract or oil depending on your preference, the intense flavour is thanks to a generous amount of Limoncello in both the cake and glaze.
As the old saying goes, when life gives you lemons, make Limoncello (OK, maybe it's not how everyone remembers that saying).
Limoncello is an Italian liqueur that is fabulous in baking. If you're a fan of big bold lemon flavours, or have a surplus of lemons (lucky you), Limoncello is also really easy to make. It's basically vodka, lemon zest, sugar and water. When making Limoncello, zest your lemons as lightly as possible. You don't want any pith at all so you lemons should still look very yellow when you're done. Also use a high proof vodka which will impart a stronger lemony flavour.
But back to the bundts. While these mini bundts are as cute as a button, you can also make this recipe as one large cake if you prefer. Either way, you'll be in lemon cake heaven.
If you're looking for a slightly less intense Limoncello cake recipe, have a look at this Limoncello Loaf Cake. It only uses 3 tablespoons of Limincello as opposed to the half cup in this recipe.
For the entire recipe for Mini Lemon Cakes visit the fabulous A Cup of Mascarpone .

Mini Lemon Bundt Cakes Recipe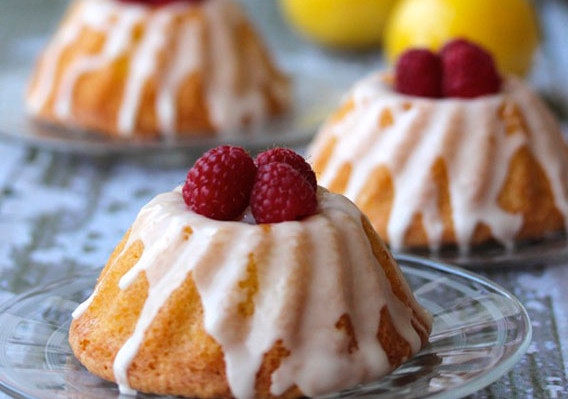 Ingredients
For the Mini Bundt Cakes:
For the Glaze: