A great Nutella Cake recipe – easy, delicious and not too sweet.

If it seems impossible to you that any baked good containing Nutella wouldn't be tooth-achingly sweet, then read on.

To be completely honest, this Nutella cake is actually a giant Nutella muffin – made in a cake loaf tin.

I find Nutella delicious, but far too sweet. I know people spoon it from the jar into to their mouths, but I could never go there.
When I needed to use up the remainder of a jar of Nutella, I wanted a cake recipe that would balance out the sweetness and richness of the Nutella.
I turned to the internet for recipe inspiration. But as it turns out, I may be alone in my quest for a not too sweet or rich Nutella cake recipe.
It seems Nutella Pound Cakes are all the go if you want to bake with Nutella. But the richness of pound cake (think 4 eggs, a cup of butter and a cup of sugar) plus Nutella would be far too much for me.
What I really wanted was a not too sweet, muffin-like cake with ribbons of Nutella running through it. I figured, if I wanted a muffin-like cake, why not make a muffin but in a cake tin. I used my favorite muffin recipe and made a few tweaks.
And I have to say, it was perfect. Exactly what I was wanting.
The Nutella was offset by the much less sweet, much less rich cake – which allowed the chocolate hazelnut flavor to shine.
An added plus, it was very easy. If you're looking for a simple Nutella Cake recipe, this is definitely worth considering.
To get the rippled marble effect, you simply alternate the vanilla cake batter with lines of Nutella. A layer of cake batter then draw three lines of Nutella lengthwise along the pan. Drag a skewer across the lines of Nutella to create the swirl effect. Add another layer of batter, then lines of Nutella, swirl with a skewer, etc etc etc. You want at least three layers. It will look like this in the pan:
This is a great option for a baked Nutella treat that's not too sweet, but if you are looking for a bigger, chocolatey, Nutella hit, take a look at these fabulous Nutella Cake recipes…

Nutella Cake Recipe - Easy and Delicious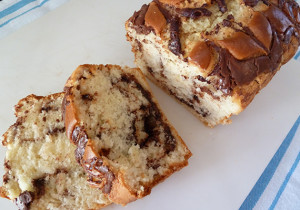 Ingredients
1 cup milk
¼ cup vegetable oil
1 large egg
1 teaspoon vanilla extract
2 cups self-raising flour
½ cup sugar
½ teaspoon baking powder
¾ cup Nutella
Instructions
Step 1 – Preheat your oven to 200ºC. Grease and line a loaf pan.
Step 2 – In a large bowl, combine the egg, milk, vanilla and oil. Beat until well mixed.
Step 3 – In another separate bowl, sift the flour, baking powder and sugar.
Step 4 – Add the dry ingredients to the wet ingredients. Fold gently with a wooden or rubber spoon until just combined. Mix only until a smooth batter forms (a couple of lumps are OK).
Step 5 – Spoon one third of the cake batter into the bottom of the loaf pan. With a spoon, add three parallel lines of Nutella along the length of the pan - start with one line in the center of the pan, and then one along each side of that center line. Drag a skewer across the three tracks of Nutella (see photo).
Step 6 – Spoon half of the remaining cake batter ontop of the first layer in the pan. Again, with a spoon, add three parallel lines of Nutella as before and drag a skewer across the three tracks of Nutella.
Step 7 – Repeat with remaining batter and Nutella.
Step 8 - Bake for approx 40 mins. Perform a skewer test. Remember, you are testing to see whether the cake itself is cooked - the Nutella will remain molten while warm. Look for white cake crumbs to test the "done-ness" of the cake.
Step 9 – Allow to cool for 10 minutes and remove from pan.