This Brownie Ice-Cream Cake recipe will rock your world. With decadent layers of rich chewy brownies, homemade thick caramel, ice-cream and velvety chocolate Nutella sauce.
Yes people – this is as good as it sounds.
Brownies and ice-cream are an all time favourite for me (although I am partial to any ice-cream and biscuit/cake combination – pass me that Monaco Bar). So a brownie ice-cream cake seemed the perfect next step to indulge my fondness for this delicious combination.
This recipe uses espresso ice-cream. If you're not a coffee ice-cream fan, change the ice-cream flavour to something else. Keep it basic with vanilla or chocolate ice-cream or play with the Nutella flavours and add a hazelnut ice-cream.
The ice-cream cake genius responsible for this wonderful Brownie Ice-Cream Cake is My Kitchen Addiction.
Care for another ice-cream cake recipe? How about this delicious little number with meringue, chocolate and raspberries.

Brownie Ice-Cream Cake Recipe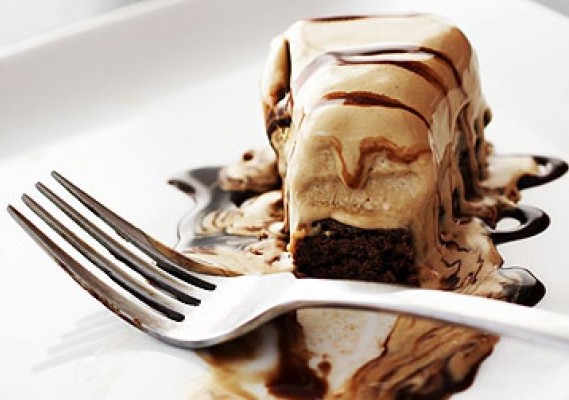 Ingredients
For the brownies:
½ cup (1 stick) melted butter
1 cup granulated sugar
2 eggs
1 teaspoon vanilla extract
½ cup all purpose flour
⅓ cup cocoa powder
¼ teaspoon salt
¼ teaspoon baking powder
For the homemade caramel:
1 cup granulated sugar
¼ cup water
½ cup heavy cream
Pinch of Kosher salt
For the espresso ice cream:
1½ cups milk
2 cups heavy cream
2 tablespoons instant espresso powder
1 vanilla bean
4 large egg yolks
¾ cup granulated sugar
To finish the ice cream cake:
2 tablespoons Nutella
Chocolate syrup (optional)