I have a soft spot for mini bundt cakes, but in my early efforts to perfect these little delights, I encountered an annoying problem: they were lopsided.
I adore baking mini cakes. There's something very appealing about a "cakelette" – and they're certainly crowd-pleasers. Just watch how quickly they disappear at your next group event.
If you're planning to make mini cakes, I want to let you in on a simple trick that can save you frustration.
The style of mini bundt pan I have are the individual variety like these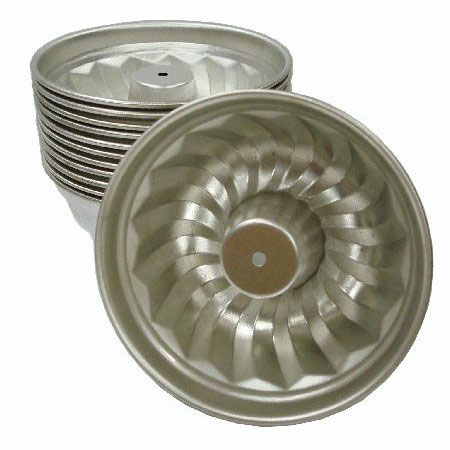 They were an impulse buy – I saw them in a shopping center display and decided I had to have them.
But, as I was to quickly find out, not all mini bundt cake pans are created equal and something annoying kept happening.
When I was placing the eight individual pans filled with cake batter into the oven, despite all my care, some would invariably unbalance on the wire oven racks and the mini cakes would end up lopsided.
The first time, I thought I had just been careless, but it still happened when I was being very careful about positioning the pans on the oven racks. My frustrations were mounting.
I did a search on the internet but couldn't see anyone was having the same issue. But what I did discover online was that you can buy mini bundt cake pans that are all joined together, like these from Nordic Ware
: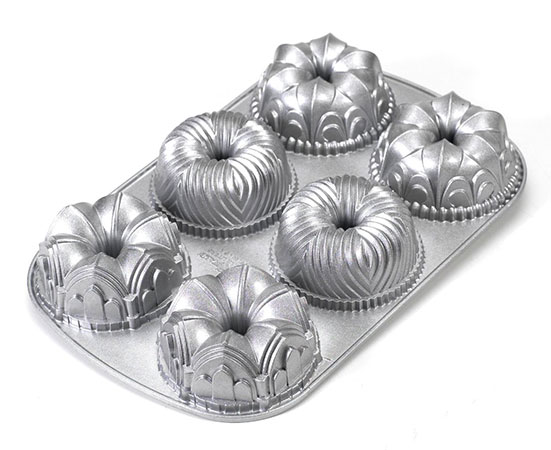 The larger joined together mini bundt pan is obviously more stable in the oven. My mini bundt pans were pretty new so I couldn't really justify buying a whole new range of tins.
So I've solved my lopsided cake issue by simply placing all of the the pans on a oven sheet. I was initially worried that the double layer of metal would cause the tops of the cakes to over-brown, but this doesn't seem to be a big issue. I do keep a close watch on the baking times though.
Maybe everyone already places their mini bundt pans on an oven sheet but I certainly didn't know about it, so thought I should share my simple solution.
That's one problem solved – no more lopsided mini bundt cakes.
The remaining problem is that I'm still a little bit obsessed with mini bundt cakes. Just look at all the wonderful shaped bundt pans available. I want them all, although I do think the Nordic Ware one above called "Garland"
is my fave – the three different designs are just gorgeous: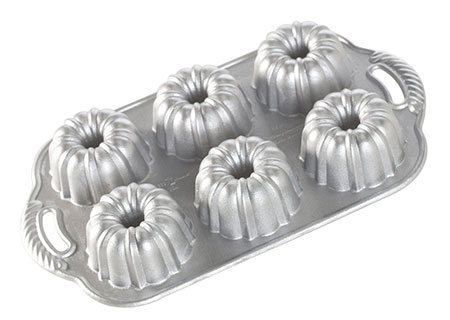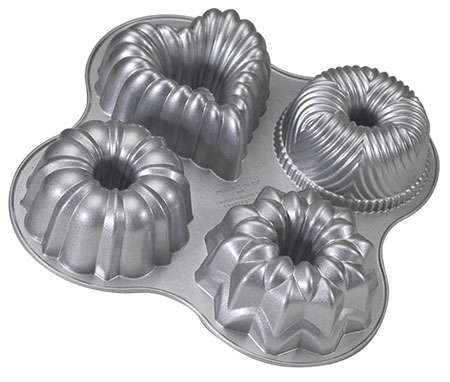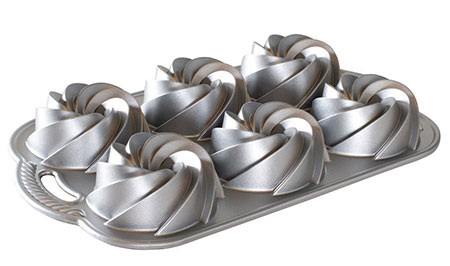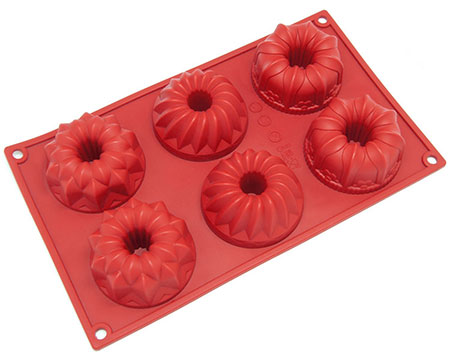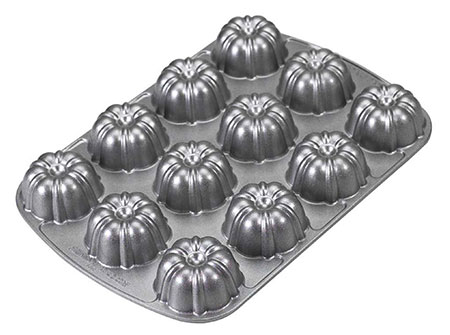 If you're looking for some gorgeous mini bundt cake recipes, may I suggest:

Other Cakes You Might Like