An easy Strawberry Buttermilk Cake that is an utter delight.

After recently spending the morning at a pick-your-own strawberry farm, I had quite a lot of strawberries at home (side note, those farms really should weigh you going in and going out. I ate a fair few strawberries while I was there. Don't worry, I spent up big in the gift shop to make up for it – strawberry gluttony guilt I guess).

Back to the point. I wanted to whip up an easy wholesome, heartwarming cake when we got home that afternoon. No messing around. Not pureeing strawberries or making compotes. A basic but delicious strawberry cake was what I wanted. Probably on the rustic side. Cue this Strawberry Buttermilk Cake recipe.

Easy? Check.
It's a very easy recipe you could probably make from basic baking ingredients already in your pantry (as long as you have strawberries of course).
You don't even need proper buttermilk as you can make your own using regular milk and lemon juice or vinegar.
Tasty? Check check. The buttermilk (or it's alternative) make for a very moist tender flavour filled cake. The strawberries intensify in flavour and colour when baked and take on a lovely silky texture. Totally delish.
The recipe also provides a substitute for an eggless version too in case that's an issue for you (or you've run out of eggs – it happens to the best of us bakers).
As much as this Strawberry Buttermilk Cake hit the spot that afternoon, it didn't really put a dent in my strawberry surplus as it only required 1 cup of strawberries. Enter this Fresh Strawberry Cake flavoured by nothing other than fresh strawberries. Strawberry surplus taken care of.
This easy Strawberry Buttermilk Cake is baked with love by Fun and Food Cafe.

Strawberry Buttermilk Cake Recipe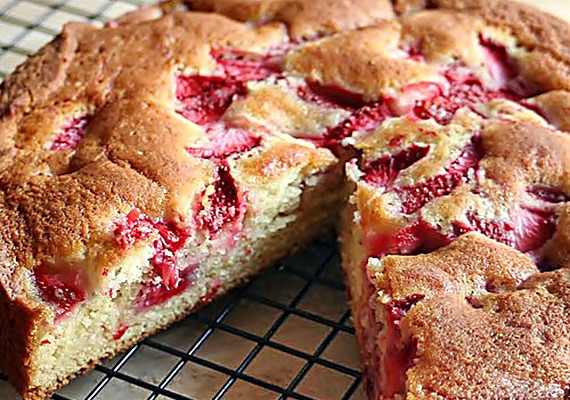 Ingredients
1 cup all-purpose flour
½ teaspoon baking powder
½ teaspoon baking soda
¼ teaspoon salt
½ stick unsalted butter, softened
⅔ cup plus 1½ tablespoons sugar, divided
½ teaspoon pure vanilla extract
1 large egg
** Use ½ cup buttermilk instead of the egg as an alternative
½ cup well-shaken buttermilk
1 cup fresh strawberries (about 5 oz)