A Flourless Nutella Cake that will cement your reputation as a cake baking super-star. Flourless Nutella Cake – what a genius idea!
And no-one has to know how easy this cake actually is.
What sets this recipe apart from so many other flourless chocolate cakes is the inclusion of Nutella and hazelnut butter.
And while hazelnut butter may sound a bit posh, it's just peanut butter made from hazelnuts. You can usually find it in health food shops or gourmet grocers.
Both the Nutella and hazelnut butters add a rich, hazelnut loveliness and velvety texture you would usually only expect from much more complex recipes.
And there's the 16 ounces of chocolate and cup of heavy cream to add to the overall decadent deliciousness.
A new take on the classic flourless chocolate cakes, this Flourless Nutella Cake from Seattle Palete may change your world.
If you're a fan of Nutella Cakes and looking for something a little more complicated, take a look at this great layered Nutella Chocolate Cake recipe. Divine!

Flourless Nutella Cake Recipe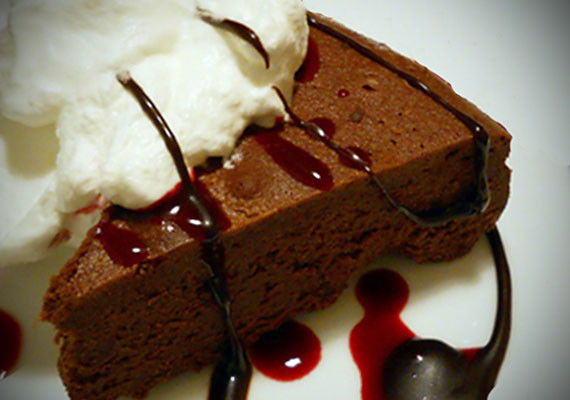 Ingredients
9 ounces fine-quality bittersweet chocolate (not unsweetened)
7 ounces fine-quality milk chocolate
1 cup Nutella chocolate-hazelnut spread
¾ cup unsweetened hazelnut butter
6 large eggs
½ cup superfine granulated sugar
1 cup well-chilled heavy cream