This Caramelised Banana Cake recipe is yet another version of a classic banana cake.

As you probably guessed from the title, the bananas are lightly caramelised in butter, sugar and water before being added to the cake batter. This gives a richer, rounder banana flavour than using fresh mashed bananas.

Other than that, this is a very easy, straightforward banana cake recipe to add to your repertoire.

I first found this recipe on J's Kitchen which seems to have disappeared into cyberspace. I've taken the liberty of reproducing the recipe below so that we don't loose it forever.

Still looking for banana cake recipes? Have a look at this list of great banana cake recipes.


Caramelised Banana Cake Recipe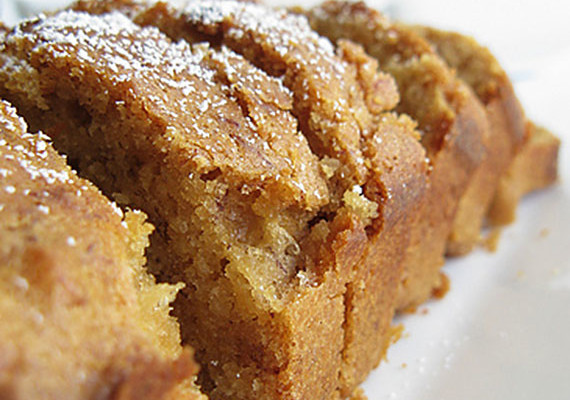 Ingredients
70 + 10 gr butter
40 + 40 gr caster sugar
2 (175 gr each) banana, thinly sliced
2 eggs
180 gr plain flour
20 gr cornstarch
½ tsp baking soda
80 ml milk
Instructions
Preheat oven at 180C and prepare baking pan.
Caramelise the bananas: in a nonstick frying pan, heat 40 gr sugar and 1 tablespoon water until it starts to caramelise. Add 10 gr butter. Let the butter fully melt, then add sliced banana. Cook until softens - mash while cooking. Cool.
In a bowl, sift together flour, cornstarch, and baking soda.
Beat 70 gr butter and 40 gr caster sugar until light and fluffy. Add eggs, one by one, mixing well after each addition. Add cooled caramelised banana.
Fold in flour mixture alternating with the milk in 3 additions, starting and ending with flour mixture.
Pour into prepared pan and bake for 30-35 minutes (depending on pan size).