The birthday is imminent and the request (cough – demand) has been made – a Hello Kitty Cake.

You should breathe a sigh of relief.
Of all the character cakes out there, a Hello Kitty birthday cake has to be one of the easiest.
The shape is relatively simple and the decoration not too tricky. And as an added bonus, if you don't want to freestyle the cake shape, there are quite a few Hello Kitty cake pan designs available at good prices.
Well hello Hello Kitty
If you're on Hello Kitty cake duty, chances are you're already familiar with this adorable animated feline. But on the off-chance that you're not, Hello Kitty is a small, white, female, kitten character from Japan. She first started to win hearts in 1974 and according to an article in the New York Times in 2010, has grown into a worldwide phenomena worth over US$5 billion a year (that's not a typo – US$5 billion a year).
Despite what appears to be an extreme "Japanese-ness", Hello Kitty's back story is that she was born in London and is particularly fond of cookies. She also has a twin sister (most people don't know that). It appears that her lack of a mouth may have stifled a successful television or singing career, but at $5 billion a year, I reckon this kitten is doing OK for herself.
And it's not just kids who are into Hello Kitty. We lived in Japan for a while which allowed my love for "Kitty Chan" as she is affectionately known there, to flourish. Much to my husband's dismay, I still possess a pair of lurid pink Hello Kitty pajamas – that I love. I might just ask for a Hello Kitty Birthday Cake myself next year.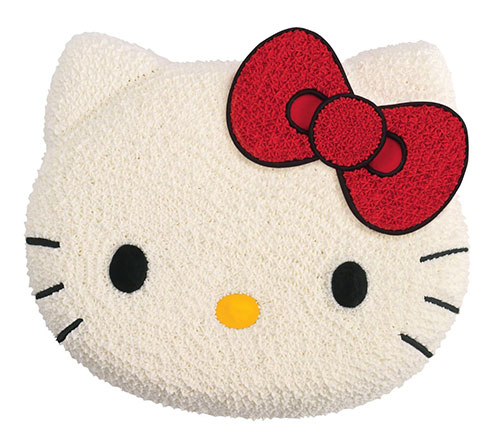 But enough of my own Hello Kitty fondness, back to the task at hand and your Hello Kitty cake pan options.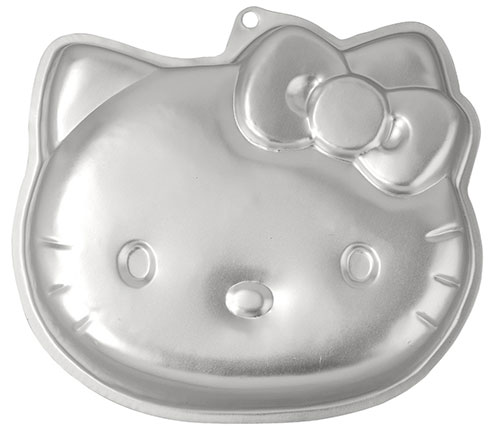 I do love a Wilton cake pan and this Hello Kitty Cake Pan
is no exception. I'd have to say that this is my pick for the best Hello Kitty cake pan.
This aluminum Hello Kitty Cake pan comes with detailed instructions on how to decorate the cake including the right frosting and what icing tip to use if you want to go for the star-dotting effect (you can see the star pattern in the cake photo on the top of the page – easy and effective but a little time consuming). The 3D impressions from the baking pan are really helpful as a guide for decorating.
The pan is a medium size – the dimensions are 11 x 10.1 x 1.9 inches, which is about the size of a standard round cake tin. But it's not very deep. At just under two inches high, you'll probably need more than one cake if you're serving this at a party. Or make a simple large rectangular cake, frost it in a color other than white, and use it as a base layer for this Hello Kitty cake.
The only complaints about this pan relate to the cake sticking if it's not prepared well enough. You really don't want half of Hello Kitty's face to be stuck in the pan (cue distraught child). Just make sure you prepare your pan properly, a greasing agent (oil, spray, butter) plus a dusting of flour is best in my view.
Also, make sure you shop around to compare prices for this particular pan. I've seen it on sale for between $10 to $16. But even at $16, it will still probably end up cheaper than buying a Hello Kitty cake from a bakery.
Slightly cheaper than the Wilton version above, is this Budget Hello Kitty Cake Pan. It's a little flatter and doesn't have the same level of detail as the Wilton pan (it lacks the sculpting around the bow and ears for example). It also doesn't come with Wilton's ultra detailed decorating instructions, but this pan will still give you an easy-to-decorate Hello Kitty shaped cake. A very good budget model.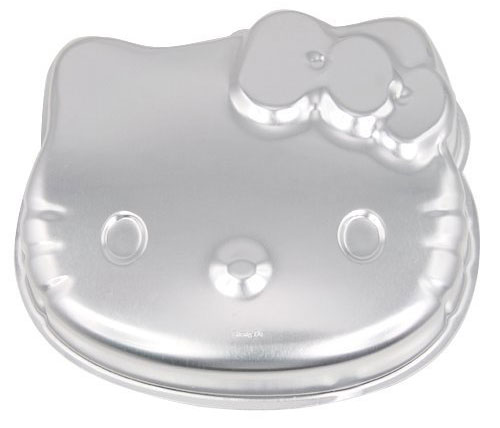 The "official" Hello Kitty cake pan, this comes from the owners of Hello Kitty, Sanrio. A good non-stick pan and the only model that has the words "Hello Kitty" visible (although I think they're really only a guide for decorating – the writing is not that clear on the baked cake). At around the same price as the Wilton pan, this is again a relatively shallow pan at 2 inches deep. If you're having a big party you'll need more than one.
.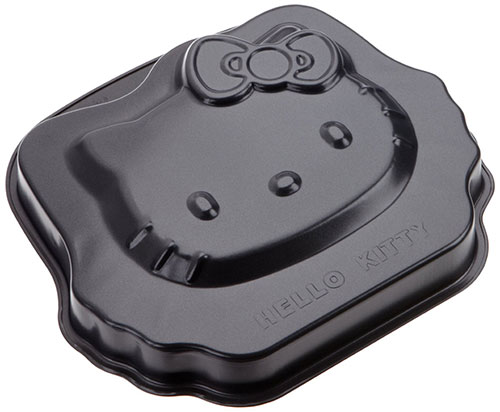 If you've already made the Hello Kitty face cake and are looking for something new, how about this Hello Kitty cake pan where Kitty is holding a love heart
– awwwww… So sweet.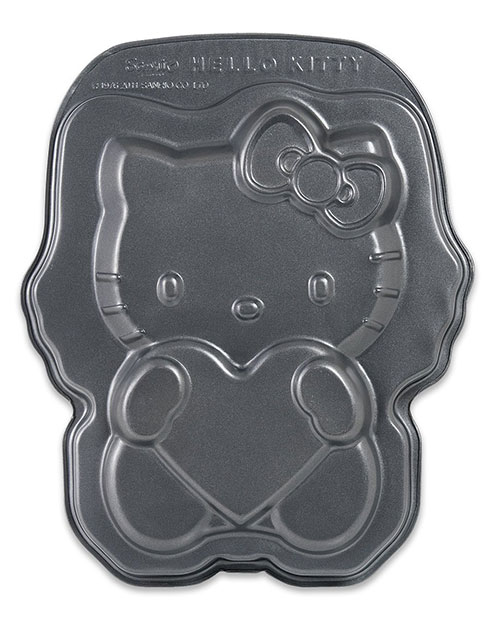 Super cute, this non-stick Hello Kitty pan will have everyone swooning. About the same size as the other versions here (9″ x 11″ x 2″), but it does tend to be a little more expensive than the other pans (around the $18 mark). But again, awwww…
Other options for Hello Kitty Cakes
There are other super easy options to transform any old cake into a Hello Kitty baking master piece.
Firstly, I can't resist adding this lovely Hello Kitty Candle
to the list. I have to say, I'm so pleased the wick is not on Kitty's head! I think a melting Hello Kitty would be awful and could damage the psyches of quite a few children (and possibly some adults). Somehow cutting up Hello Kitty with a knife isn't as distressing for me – odd isn't it.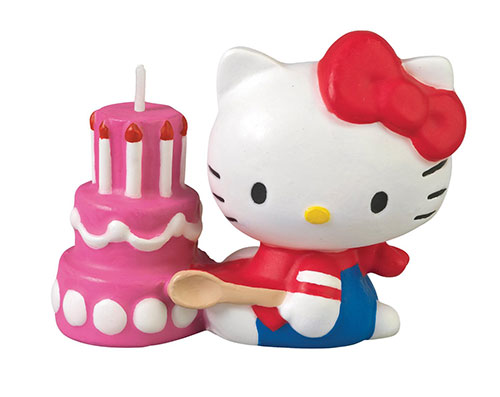 For an easy Kitty themed cake, Pop this Hello Kitty House Cake Decorating Kit
onto a rectangle cake with grass-green icing and you're ready to go (although keep in mind the house only has 3 sides – there's no back to it which can prompt some odd questions from children).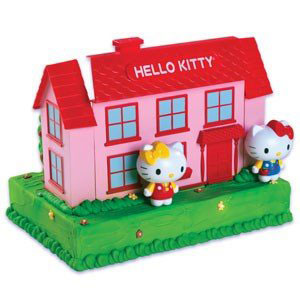 There is a whole range of Hello Kitty cake toppers (edible and non edible), figurines and rings available: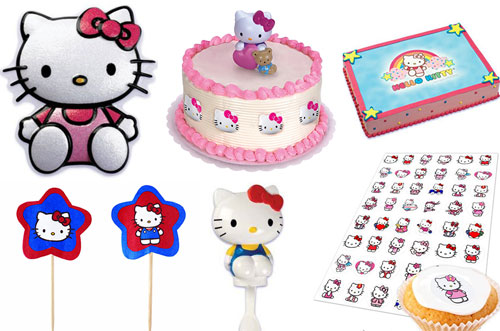 As well as kits like this Meri Meri Hello Kitty Cupcake Kit
which gives you 24 Hello Kitty cupcake liners and 24 assorted cupcake toppers than transform any cupcake into a special Hello Kitty cupcake. You can also buy these items separately (and in varying quantities).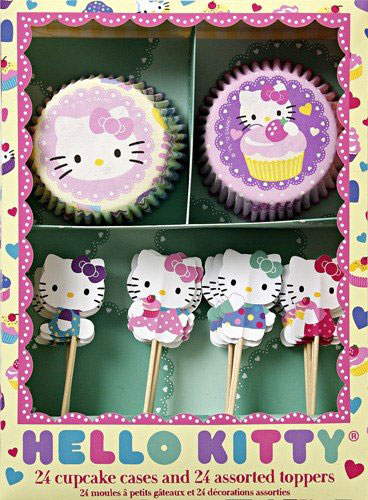 And if you do decide to go down the Hello Kitty Cupcake route, have a look at this tiered cardboard Hello Kitty Cupcake stand: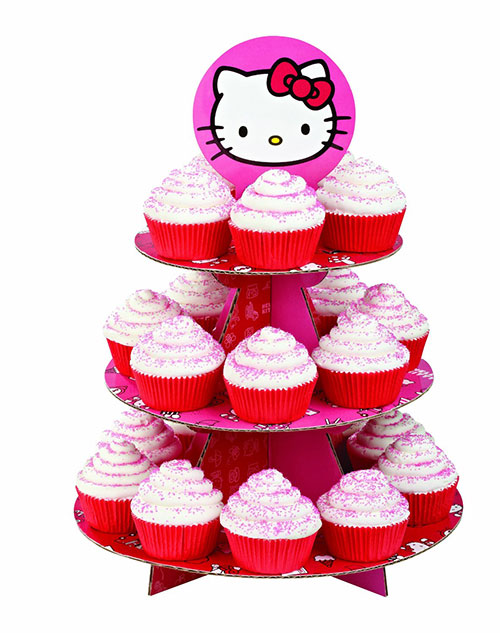 There really are so many Hello Kitty options for your cake.
And I haven't even touched on streamers, balloons, and other decorations!
It's so easy to get swept up in all the cuteness. Go with it and have fun planning your Hello Kitty party.
Have you hosted a Hello Kitty party or do you have a suggestion for a Hello Kitty cake pan? I'd love to hear about it. Share the Hello Kitty love.
Other Cakes You Might Like