Everyone loves Elmo right? Kids and adults alike.

There's something irresistible about this red, furry, monster puppet with a falsetto voice.

Do you remember when "Tickle Me Elmo" first hit the toy stores? What an incredible frenzy that was!
Well this Sesame Street friend also makes for a great party theme that's easy to pull together.
Now an Elmo cake is relatively straightforward to make and decorate. Especially if you use an Elmo cake pan. Just makes life easier. But unfortunately, there aren't that many Elmo cake pans around so I've included a few super easy ways you can turn any cake into a special Elmo cake.
So whether you use an Elmo cake pan or other Elmo cake decorations, here are some ideas that would be right at home on Sesame Street.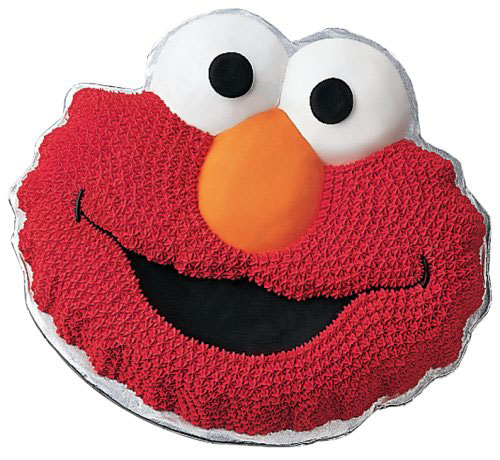 This Elmo cake pan
from Wilton is a great and easy option for making your Elmo birthday cake. I love, love, love this cake pan – the close-up of Elmo's face in cake form makes me smile every time I see it. A good starting point for any cake design I think.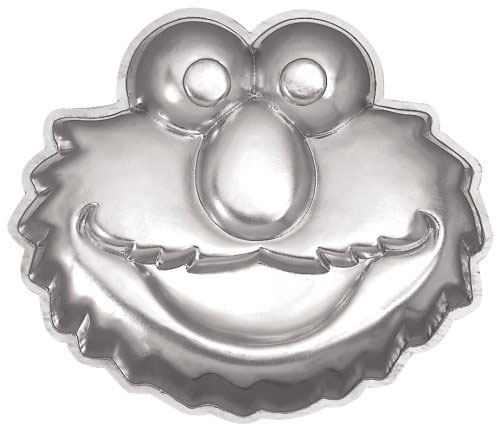 The pan comes with detailed instructions on how to decorate the cake (color of icing, what piping tips to use, etc etc). Wilton recommends using the star dotted icing technique which gives Elmo's fur a great texture – you can see the effect in the photo above. It's not difficult – maybe a little time consuming dotting all the stars. But overall this is an easy cake to decorate (only four colors of icing and two techniques). Wilton's instructions will guide everyone, even a beginner, through the steps.
One thing to keep in mind, if you're having a party this Elmo cake pan might be on the small size. The pan's dimensions are 2.2 inches x 12.5″ x 10.9″ (slightly larger than a standard round cake pan). You can either make more than one or maybe make and simply frost a large rectangular cake and then pop the Elmo face cake on top.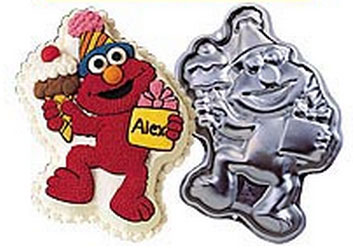 I debated whether or not to include this Elmo pan
as it has been discontinued (cry!) But it does still pop-up on Amazon and eBay from time-to-time so keep an eye out for it if you're interested.
Sadly, because this Elmo cake pan design is now harder to come by, the price has gone up considerably. Don't be surprised if you see a $60 price tag – I guess it's a collectors' item now.
But you've got to admit it makes one super-cute Elmo cake.
Given there aren't that many Elmo cake pans around and especially as the second one I mention is discontinued and now pretty expensive, here are some other options for making an easy Elmo cake:
Elmo Cake Toppers
A sweet cake topper of Elmo and Abby on a see-saw in the playground is sure to get a smile. Decorate a standard shaped cake with grass, sky and sunshine, then add this figurine for a great Elmo cake.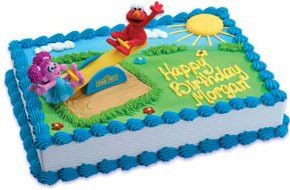 This Elmo Spoon Cake Topper
turns any cake into an Elmo Cake! Too easy.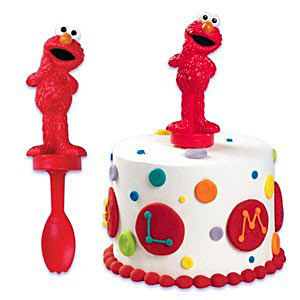 Edible Elmo cake art stencils are another easy way to turn any cake into a special Elmo cake. Generally made of tapioca starch, corn syrup, sugar, water and canola oil, the stencils can also be used on top ice cream cakes or cookie cakes.
Cake art stencils like this can be great but they can also be tricky to remove from the backing and place on the cake – and you only really get one shot at it. If you're worried, buy two (or go for a plastic toy-like cake decoration like the Elmo see-saw or spoon above).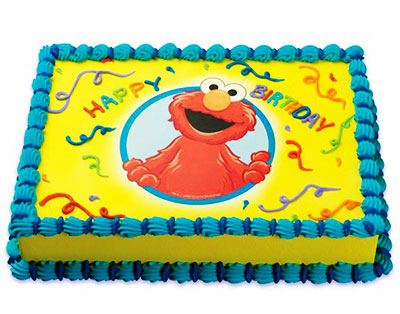 These Elmo Cake and Cupcake Toppers are utterly adorable. I can't help but smile when I look at these little guys. Available in packs of 12, these are a super-easy Elmo party option.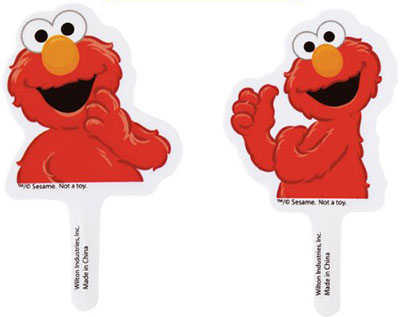 These Elmo Cake Rings are another cute way to turn any old cupcake into an Elmo cupcake. They also look great strategically positioned around a full-size birthday cake. And they serve as Elmo party favors too.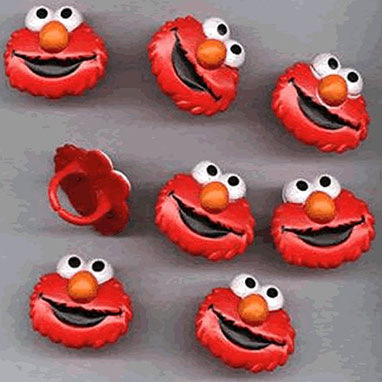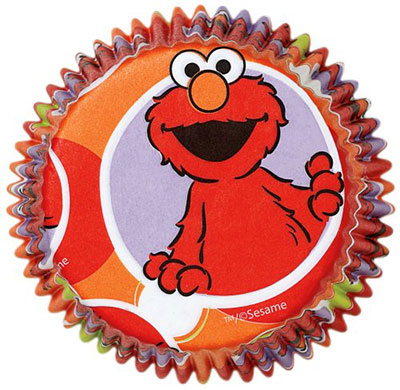 I couldn't give you an Elmo cake guide without including cupcake wrappers and these gorgeous, colorful Elmo Cupcake Liners  are sure to be a big hit.
The Elmo design continues all the way around the sides. One word of warning – these are not suitable for chocolate cake as the darkness of the cake overshadows the Elmo decoration. Stick with vanilla or yellow cake for best results. There are 50 wrappers in a packet so you can make enough Elmo cakes for everyone!
If you do go down the cupcake route, you might like to consider this lovely bright Elmo cupcake stand make from cardboard.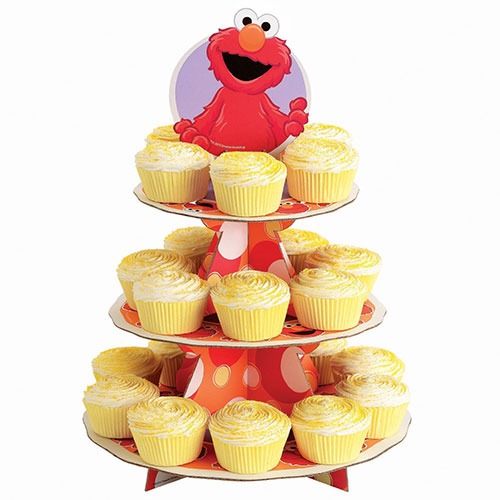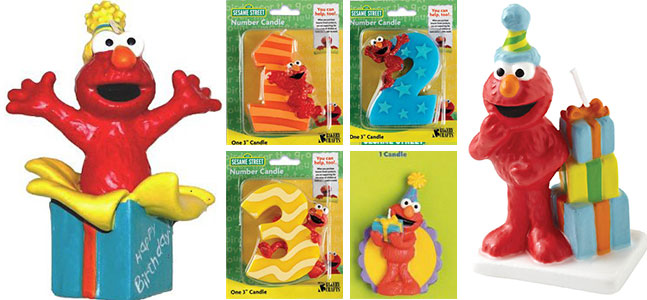 There are some cute, bright Elmo candles
available that would work well on any cake. Instant Elmo birthday cake! Number Elmo candles seem to be available for ages 1-3 which is the traditional fan-base for Elmo (although you could make any combination of these numbers – 11, 12, 13, 23, 33 etc).
Now my final suggestion is not cake related but he's pretty cute. A giant Elmo balloon.The little boy's face says it all.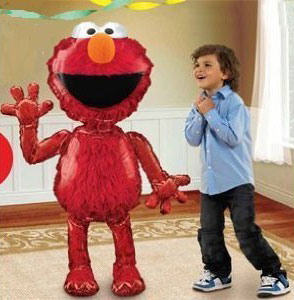 Have you hosted an Elmo themed party? Or do you know of another Elmo cake pan that's a winner? Share the Elmo love and let us know about it in the comments below.
Other Cakes You Might Like