Here are some super easy Batman cake ideas to make sure that your Batman cake is as cool as the crime-fighting caped-crusader himself.
There are some truly remarkable Batman cakes around – more sculptures than cakes really.
But I think that the easiest way to make a Batman cake is either with a Batman cake pan, a Batman cake topper or Batman cake stencil. Here are a few of the best.
Batman Cake Pan
The Wilton brand has always been king when it comes to Batman cake pans. Sadly however, most are now discontinued. The good news is that you can still buy them (new and used) on Amazon and eBay. The bad news is that prices have sky rocketed. It's not unusual to see a new Batman cake pan selling for $50 to $60.
Some of the original cake pans were sold with little plastic Batman faces and logos so you didn't have to decorate these parts yourself. If you are going to part with this much cash for your Batman cake pan, make sure it's a complete set. You can buy the pan without the accessories for far less.

As far as a Batman cake pan goes this is pretty cool – but its price these days is anything but. This once popular Wilton pan has been discontinued and now sells for up to $60 on Amazon and eBay (that's the price for a new pan – not second-hand). I say if you see this pan in good used condition at a reasonable price, buy it!
The pan comes with very detailed baking and decorating instructions. The hardest part of decorating this Batman is getting his mouth to have the right scowling expression!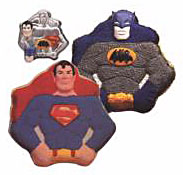 Two super heroes in one. What could be better than this cake pan that can be used to make not only a Batman cake but a Superman cake as well?
Again, sadly discontinued.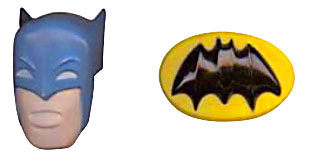 This is one of those pans I mentioned above that was sold with plastic accessories – the faces of both super heroes as well as their chest badges.
Make sure they're included if you're paying top dollar.
Again, this pan comes with very detailed decorating instructions for both super heroes.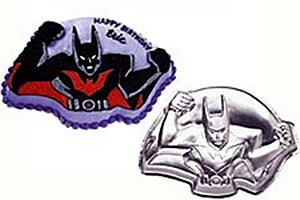 Another Batman cake pan from Wilton, Batman Beyond is – you guessed it, also discontinued but still available.
This contoured aluminum cake pan comes with detailed baking and decorating instructions, including an alternative color scheme to the violet version pictured here.
But don't give up on your Batman cake ideas even though all these cake pans are now considered vintage collectors' items. You can still make a homemade Batman birthday cake quite easily with cake toppers and cake stencils.
Batman Cake Toppers
Turn any cake into a special Batman cake with these great cake toppers: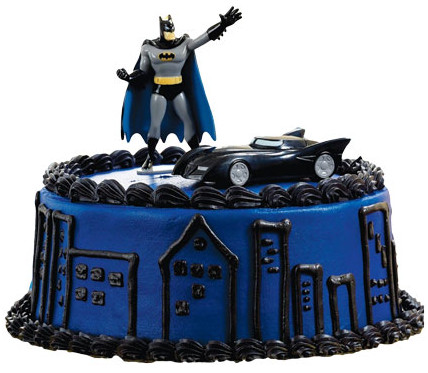 Seriously cool, this Batman and Batmobile cake topper makes any cake a great Batman cake.
A little more expensive than other cake toppers, but the quality is good for this sort of thing.
Very cool. Very, very cool. And you get to say "To the Batmobile".

When you just want the super hero himself, this Batman Spoon Cake topper is simple but perfect.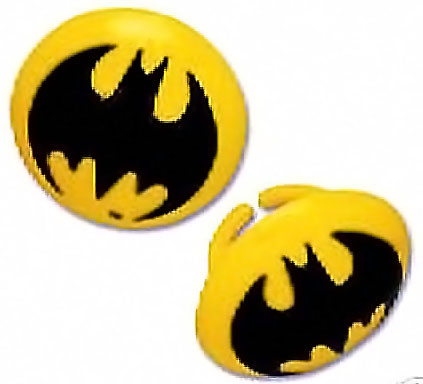 Holy-Cupcakes-Batman! How about some Batman cake or cupcake rings like these? The Batman symbol is very striking when used on a display of cupcakes. Super easy too.

A three piece set Batman cake topper set – you get Batman, the building he stands on and the Batman logo.
The Batman figurine is held on the building with a magnet. Don't position Batman on your cake until you're ready to present the cake. The magnet is fine for holding Batman in place on the stable cake, but won't work if you are transporting the cake.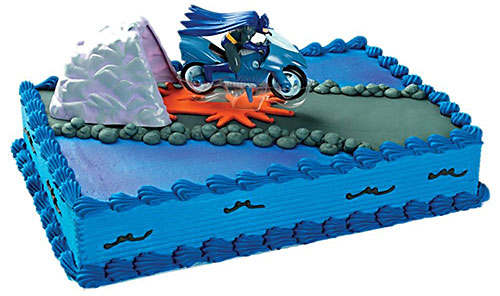 Like the Batmobile cake topper above, this is super cool. A Batman cake topper featuring Batman, his cave and his motorcycle!
It's also a fun toy after the cake has been gobbled up. You press a button and Batman shoots out of his Batcave on his Batcycle.
A winner with boys of all ages.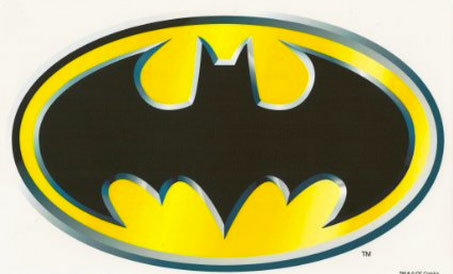 The iconic Batman symbol. For a striking Batman cake look no further than this Batman cake stencil.
Super quick and easy, character candles are great for making any cake special.
This Batman candle would work a treat (although the wick is on his head so you do effectively have to set fire to Batman's head and then watch it melt).
***
So there you have a few easy Batman cake ideas to make birthday wishes come true.
The thing I've never been able to find though is a Batman and Robin cake. Why is that so difficult? Every Batman fan I've talked Batman-themed cakes with agrees that a Batman and Robin cake would be very cool indeed. The search continues…
Have you ever hosted a Batman party? Do you know where we can find a new Batman cake pan or another cool Batman cake topper? Leave a comment below to share the Batman love!
Other Cakes You Might Like