If you're not interested in my ramblings about baking equipment obsession and how I feed this addiction in a cost effective way, skip to the bottom for the recipe for Mixed Berry Muffins with Crumble Topping. Otherwise…
I have a slight obsession with baking equipment (you're probably not surprised to read that). And it can be a costly obsession to have.
While a pan here or there may not seem like much, it can start to add up.
If you have a soft spot for bakeware like me, but you'd rather not spend too much money on your collection, here's my little secret.
Many years ago I discovered a guilt-free treasure trove of baking equipment – op shops.
Second-hand and charity shops often have baking gear in perfect condition. And the money goes to charity too.
I haunt op shops looking for baking equipment. And I'm rarely disappointed. Look at this beautiful tiered star-shaped bundt pan.
I can easily justify paying $2 for this star bundt cake tin – but I can't really justify spending $30 on a new version in a homeware store (a good decision too as I haven't actually used the star pan yet – but I will soon I promise).
Last week I found these gorgeous ceramic muffin trays in absolutely perfect condition. For the grand sum of $5 – for both! Charming aren't they?
Muffins had to be baked – that afternoon. Quick smart.
Now, as you know, I'm more of a cake baker than a muffin maker but I do occasionally dabble in muffins (as well as cupcakes – shock horror). And my favorite muffin recipe by a million-zillion-miles is for Mixed Berry Muffins with Crumble Topping.
Yes – as if berry muffins on their own weren't good enough, I like to add a crumble topping.
There are a few reasons I like this recipe. One is because you use frozen berries – super easy and super convenient. I usually have a packet in my freezer – they're just so damn handy to have around.
And then there's the crumble – I do love a crumble topping. I'd put it on toast if I could get away with it.
Baking the muffins in ceramic rather than metal pans took about 15 minutes longer. I've included baking times for both metal and ceramic pans.
Here they are – my fav Mixed Berry Muffins with Crumble Topping.
(And I promise to use my star bundt pan soon!)
Mixed Berry Muffins with Crumble Topping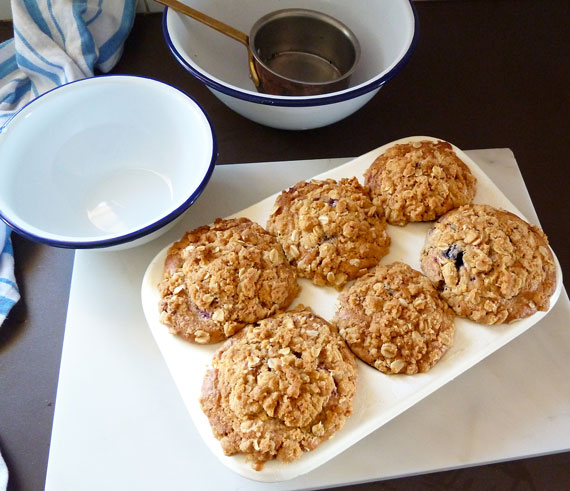 Ingredients
For the Mixed Berry Muffins:
¾ cup milk
¼ cup neutral flavored oil (like vegetable)
1 egg, beaten
2 cups plain flour
2 teaspoons baking powder
½ cup castor sugar
1 cup fresh or frozen berries - anything you please, blueberries, raspberries or a "fruits of the forest" mix (which is what I used here)
For the crumble:
½ cup plain flour
¼ cup rolled oats
½ cup butter
3 tablespoons brown sugar
Instructions
Preheat your oven to 200ºC. Prepare a 12 muffin cup pan (grease and/or paper cups).
Prepare the crumble first (this way you can get your muffins into the oven more quickly). Using your hands, rub together the flour, brown sugar and butter. It will look like crumbly soil. Once combined, add in the rolled oats and mix through. Set aside.
In a large bowl, combine the egg, milk and oil. Beat until well mixed.
In another separate bowl, sift the flour, sugar, baking powder, and salt.
Add the dry ingredients to the wet ingredients. Fold gently with a wooden or rubber spoon until just combined. Mix until a batter just forms. Don't over mix or you'll have tough muffins. At this stage your batter may still have lumps - don't worry about it. Gently fold in the berries using a wooden or rubber spoon.
Fill each of the muffin cups with the batter to approx ¾ capacity. Be careful not to overfill.
Top each muffin with a sprinkle of crumble.
Bake for 25 min (metal pan) or 40 mins (ceramic pans). Perform a skewer test.
Cool for 10 minutes and remove from pan.
Enjoy!
Other Cakes You Might Like