These great icing and frosting recipes should have you – and your cakes, covered.

The Answer Is Cake brings you these basic recipes for an Easy Chocolate Icing your Grandma would have used, a Royal Icing recipe, a Basic Buttercream plus a lovely variation that uses vanilla bean scrapings, an Easy Cream Cheese Frosting, a Meringue Frosting and finally, perhaps the most indulgent of all frostings, Dark Chocolate Ganache.

The ganache recipe is ultra easy using just dark chocolate and cream but, depending on which technique you use, you can have three deliciously different forms of ganache from the one recipe.
With your icing needs sorted out, all you need now is the cherry for on top.
Grandma's Easy Chocolate Icing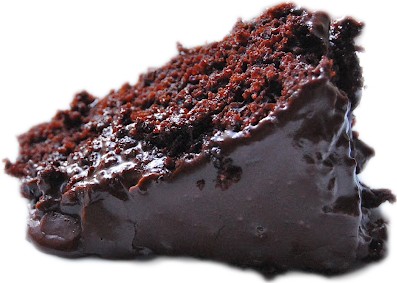 It really doesn't get any easier than this classic chocolate icing recipe.
1 1/2 cups (240g) icing sugar, sifted
1/4 cup (25g) cocoa powder, sifted
50g butter, melted
2 tablespoons (40ml) milk
Place all ingredients into a bowl. Beat vigorously using a mixing spoon until completely combined. See – I told you it was easy!
Royal Icing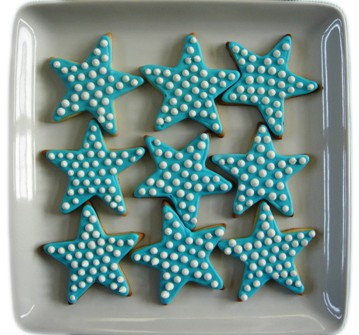 One of the most versatile icing recipes around. It sets hard and pure white so you can colour to the exact shade you want. Great for biscuits and piping designs onto cakes.
1 1/2 cups pure icing sugar, sifted (not icing mixture)
1 egg white
1/2 teaspoon lemon juice
By hand – Lightly whisk egg white and lemon juice together in a bowl. Gradually add icing sugar, whisking until smooth and combined.
By mixer – Beat egg white and gradually add the icing sugar (about a tablespoon at a time). When icing is thick and holding its form, add in the lemon juice. Beat until well combined.
Basic Buttercream
A great basic frosting recipe for spreading on cakes, cupcakes and for piping decorations.
If you're using it to pipe patterns, you'll want a thicker frosting that can hold its shape so you need to add less milk. But if you want an easy spreading frosting, add more milk. Add colouring and flavourings as you please.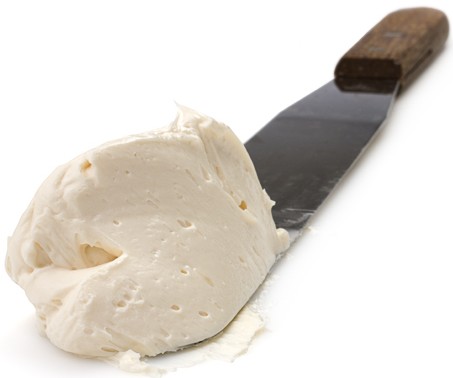 Remember as this frosting recipe is mainly butter it should be kept cool and only lasts a few days.
185g unsalted butter, softened to room temperature

2 1/4 cups icing sugar mixture, sifted

2 tablespoons milk
few drops food colouring (optional)
1. Using an electric mixer, beat the butter in a large bowl until soft.
2. Add half of the icing sugar and beat until smooth.
3. Add the remaining icing sugar and one tablespoon of the milk and beat the mixture until creamy and smooth. Add more milk, if necessary.
4. Stir in the food colouring if using until well combined.
Vanilla Bean Buttercream Frosting

A variation on the Basic Buttercream frosting recipe. This is a sweet, creamy and fluffy frosting with those tell-tale black specks and deep vanilla flavour.
375 grams unsalted butter, softened and cut into small cubes
475 g grams pure icing sugar
3 tablespoons (45 ml) milk
1 vanilla bean, scraped
1 teaspoon (5 mL) pure vanilla extract
scant pinch of salt
 1. Whip butter in an electric mixer on medium speed until very pale and creamy (about 8 minutes).
2. Add remaining ingredients and whip on low speed until just combined.
3. Increase to medium speed and whip until your frosting is light, fluffy and creamy (about 6 minutes).
Easy Cream Cheese Frosting
The long time companion of carrot cake, cream cheese frosting goes equally well with dark chocolate cake, red velvet cake or just about any cake really.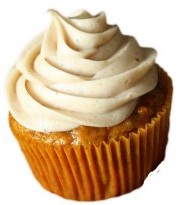 Don't be afraid to add other flavours into the frosting such as coconut, exotic aromatic spices such as ginger, cinnamon or cardamom and classic vanilla beans.
Adjust the butter and sugar to your liking, less will give you a tangier more pronounced cream cheese flavour. Easy and delicious.
1/2 cup of unsalted butter, softened to room temperature
1 cup cream cheese (8 ounces), softened to room temperature
2 – 3 cups of icing/powdered sugar, sifted
1 teaspoon of vanilla extract
With an electric mixer on medium, beat the butter and cream cheese together until you have a very smooth mixture (make sure you scrape the sides of the bowl occasionally).
Mix through the vanilla.
Slowly add the sugar (about a tablespoon at a time). Keep adding sugar until you get your desired thickness and sweetness.
Meringue Frosting
Who doesn't love a cloud of pure white, fluffy meringue frosting on cakes and cup cakes?

4 egg whites
2 cups caster sugar
¼ cup cold water
1. Place egg whites, sugar and cold water in a large heatproof bowl. Whisk to combine.
2. Place the bowl over a saucepan of simmering water.
3. Using an electric mixer, beat the mixture for approx 15 minutes or until stiff peaks form.
4. Remove bowl from heat. Continue beating until cooled.
Basic Dark Chocolate Ganache
The most basic of all chocolate ganache recipes, this is simply dark chocolate and cream. Use it as a glaze, whipped for a fluffy frosting or filling, or use it for piping decorations.
The very clever Savory Sweet Life has a great tutorial on the different effects you can get from one simple chocolate ganache recipe.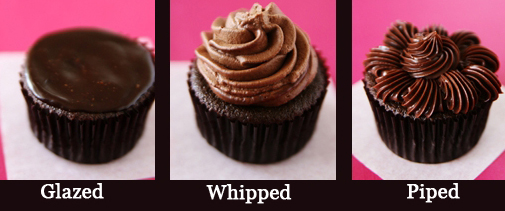 340 grams (12 ounces) dark chocolate, chopped into small pieces
1 cup heavy cream
Place chopped chocolate pieces in a large bowl. Set aside.
In a heavy-based saucepan, over medium high, heat cream to just below a boil.
Just before the surface of the cream begins to bubble, remove from heat and immediately pour the cream over the chocolate pieces.  Stir thoroughly until completely combined. The chocolate cream mixture should be smooth and glossy.
Allow ganache cool in the refrigerator (NOT the freezer, never ever ever the freezer as it will go super lumpy).
Using the same recipe you can work your ganache three different ways. You can use it as a smooth glossy glaze on cakes, whip it up for fluffy frosting or thick chocolate filling, or use it as ultra thick piped icing.
To use as a glaze: Allow ganache to cool slightly but make sure it's still pourable. The longer you let it set in the refrigerator the thicker it becomes. Use a hot knife or spatula to even out the surface of the glaze if necessary.
To whip for a fluffy frosting or filling: You need your ganache to be slightly cold, but not hard set, before you whip on high with an electric beater (just as if you're whipping cream).
For piping decorations: Wait until your ganache is completely cold, holds it's shape and you can spoon it into a piping bag. It should have the consistency of cold butter. Pipe away!
Other Cakes You Might Like