It probably won't surprise you to learn that I'm quite fond of kitchen gadgets and clever baking devices. The irony is that I don't like clutter – and that includes in the kitchen.
My minimalist tendencies have to fight very hard against the array of fabulous gadgets out there.
Happily some devices actually aid in the process of de-cluttering like the handy NuScup below or the Bodum Electric Hand Mixer with its built in cord storage.
My love of kitchen gadgetry usually wins out in the end. I'm already lusting after the cherry-pitter that stones 25 pounds of cherries in an hour for those twice-a-year occasions when I use fresh cherries in bulk (but man-oh-man, how easy would pitting cherries be with that beauty? Hmmm – I could make cherry jam too – but back to the point now).
Here's a look at some of the devices that have caught my eye of late.
Have you seen any other devices or gadgets I should know about? Do share…
If you struggle separating eggs, this gadget is for you.
I wouldn't say I struggle – but my egg separating technique is pretty messy (and to be honest it involves using my bare hands – clean of course, but I'm sure it would freak some people out).
But with this gadget, with a simple squeeze, the yolk gets sucked up perfectly into the device – and it looks like it's strangely fun to do – creme brulee anyone (read on for a super-duper blowtorch for use on those brulees).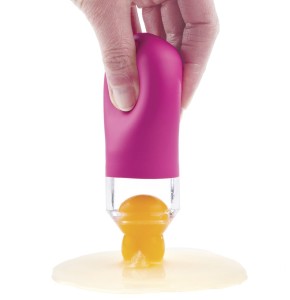 If you're like me, my stove top ends up covered in batter when I make pancakes. No more with this gadget that dispenses your batter in easy to control measures.
Also great for cupcakes.
My only complaint – handwashing is recommended.
Flat cookies are so last century. How absolutely adorable are these safari animal 3D cookies.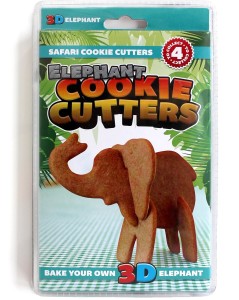 There are 4 in the range – Lion, Hippo, Elephant and Giraffe. Bizarrely, when you order you get sent a random animal – which is OK for one, but when you order 4, you may end up with 4 of the same type. I do hope they sort this out soon but be warned if you're looking for a range.
Some colour to brighten your kitchen with this hand mixer. Most electric hand mixers have pretty standard features (and we all know that they beat the hell out of hand mixing), but I like this one as it has cord storage. Loose cords annoy me so the words, "built-in, hidden cord storage" are music to my ears.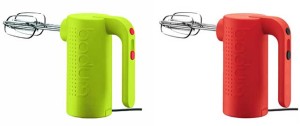 Baker's Edge Nonstick Edge Brownie Pan
Adds two chewy edges to every brownie – enough said really.
(Aren't you glad to know someone solved the edge "v" middle brownie ordeal).
Apparently there's one for lasagne too (or you could just double-up like I do and use your pans for both purposes)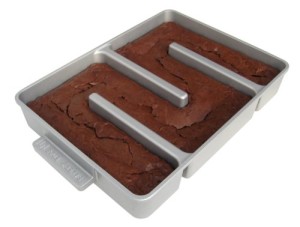 A clever, all-in-one measuring cup. Especially appealing if you're trying to de-clutter or consolidate your kitchen tools. The flappy bit moves up and down depending of what volume measure you need – and you can read it from above as well as from the side. This gadget has won a couple of design awards and it's easy to see why.
Cake Lifter
You've probably got a cake slice for individual pieces of cake, but when you want to move the whole cake – say when you want to move it to a serving plate, or when you're making a layered cake, you really can't go past this.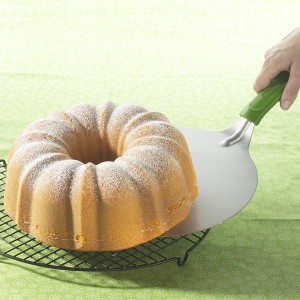 Nordicware have a nifty round lifter (above) and Fat Daddio's Cake Lifter is a handy rectangle (below).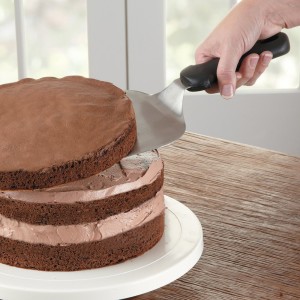 (The fact you can also lift a whole pizza with it is just a bonus in my book).
Joseph Joseph Shell Digital Scale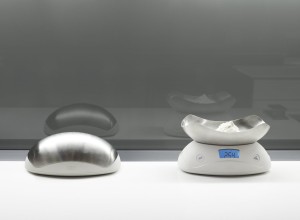 Joseph Joseph has done it again with this sleek and clever digital scale in the shape of a shell. The smooth round top is actually a measuring bowl when you flip it over. Neat (in more ways than one).
Too stylish to keep in a cupboard really.
Weighs in grams, pounds, ounces, fluid ounces and millilitres and ingredients can be tared. Auto power off to maximize battery life. The internal mechanism guaranteed for 10 years.
Pitting cherries for baking can be a chore. Not anymore with this inspired gadget.
A plunger removes the pit from the cherry and captures it in the container. Not only is it easy, there's no mess either. The manufacturer claims you can pit 25 pound of cherries in only one hour. That's a whole lot of cherries.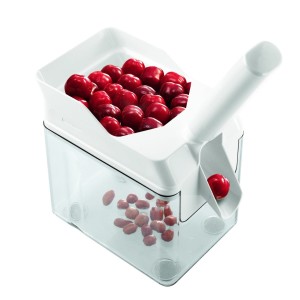 Once you've pitted all those cherries, how about some pie?
If you can't decide what type of pie to make – why not make them both with this clever split pie pan. Bake two different pies at once (or you can just use it as a normal pie pan too).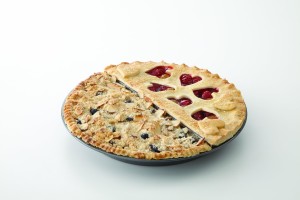 Like the look of lattice pastry but can't be bothered with the fiddley weaving? Have a look at this clever gadget.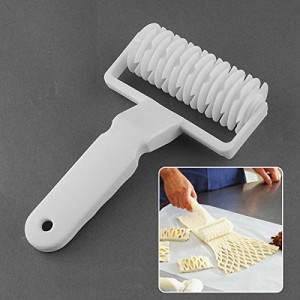 Create perfect lattice tops for pies and tarts in seconds with a simple roll action.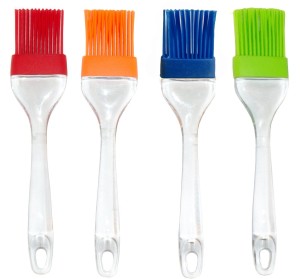 Pastry brushes are certainly not new, but the reason I prefer silicone versions is that they don't tend to leave brush lines/marks as some plastic brushes do. Small problem I know, but…
Another bonus for these ones, a lifetime, no-hassle free-replacement guarantee – wish more things in life were so certain.
I love, love, love my blow torch. Makes me feels so "powerful" controlling fire like that in the kitchen. Mine's a budget model picked up on a whim – but this deluxe Masterclass blowtorch would be my dream model.
And if you aren't already in on the secret, creme brulee is one of the simplest things you can bake – and people absolutely love it.
Plus you make it in advance which means that you don't have to faff about with dessert while your guests wait. One of the best dinner party desserts – guaranteed.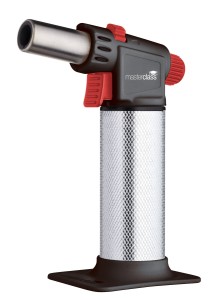 For fuss free baking, pre-cut Bake-O-Glide liners can be used hundreds of times and are easy to clean with a damp cloth but can also be washed in warm soapy water or in the dishwasher. You can use both sides of the liner when baking and you have no need to use oil, grease or fat.
And they've got Delia Smith's tick of approval.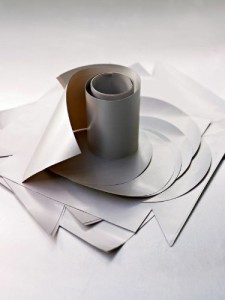 Traditionalists might opt for marble rolling pins for pastry but with this rolling pin, simply fill it with cold tap water to reduce surface temperature by 20 degrees and to add extra weight. The surface stays cool for several hours without condensation.
Not quite as attractive as a marble pin though (if you're someone like me who finds rolling pins attractive of course).
Not for US customers unfortunately, but a nice bright chance from the ubiquitous KitchenAid mixers.
If you make a lot of pies you'll love this. This nifty silicon shield prevents pie crust from over-browning or even burning.
You can use on either homemade or store bought (even frozen) pies to stop the edges of the pie burning while you try to golden-up the rest of the pastry top.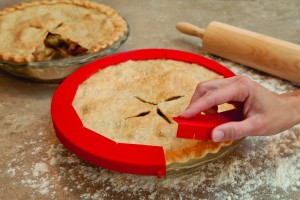 I'd always assumed that springform pans only existed as metal baking trays. Not so as it turns out.
Here we have a silicone springform pan.
Equally as good for hot or cold creations – and can be microwaved too. Another bonus with the Lekue brand is that the ceramic plate on the bottom is attractive enough to use as a serving plate.
The Lekue models also comes with a 15 year guarantee – I'm pretty sure none of my other springform pans have that sort of guarantee.
If you struggle with piping bags this gadget might help you out.
It works by using a plunger to push out the icing or chocolate. It comes with three tips: round, ribbon and a pen nozzle tips for thick lines but fits many standard piping tips.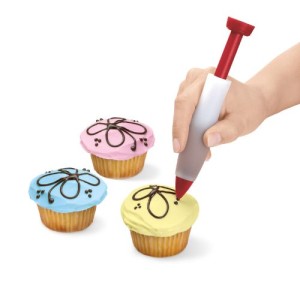 Any of these gadgets set your heart racing? Do you have any other suggestions for great kitchen devices or gadgets? Please share…
Other Cakes You Might Like