When you need a cake that tastes as good as it looks, this Chocolate Raspberry Cake is sure to impress.

The richness of the chocolate cake is offset by the sweet tartness of the raspberries. The truffle frosting is inspired and balances out the sweetness of the cake itself. Brace yourself for compliments.
This cake certainly has a "wow factor" but it's actually not that tricky to pull together.
There are quite a few steps but none of them are difficult.
This recipe originally appeared on a blog called Sugar and Snapshots which was eventually turned into a Tumbr page and the recipe seemed to vanish. I've reproduced the original recipe below so that this fantastic cake isn't lost to us.

Chocolate Raspberry Cake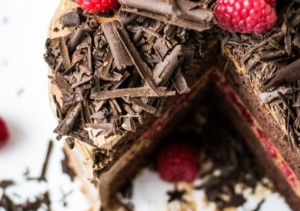 Ingredients
Chocolate Cake Ingredients
1 c water
120g cold unsalted butter, cut into cubes
40g high quality cocoa powder such as Valrohna
50g cake flour
300g unbleached all-purpose flour
1 tsp baking soda
440g granulated sugar
2 eggs, whole
2 egg yolks
½ c buttermilk
2 tsp vanilla paste/extract
1 batch Chocolate Truffle Swiss Meringue frosting (below)
2 pints of fresh raspberries
4 oz semi-sweet chocolate bar, shaved into curls
Chocolate Truffle Swiss Buttercream Frosting
5 egg whites
⅔ c sugar
4 sticks unsalted butter, softened
8 oz milk chocolate
4 tbsp cocoa powder
Instructions
Cake Instructions
Preheat your oven to 300F. Line the base of your cake pan with parchment paper, and with a bakers spray lightly coat the base and sides of the cake pan. Set aside.
Place a small sauce pan on your kitchen scale and tare it (zero it out), add in the butter until it reads 120g. Tare it out again add in cocoa powder until it reads 40g. Add in one cup of water and place the pan over medium low heat until the butter is melted. Whisk until well combined. Pour into the bowl of your stand mixer, on a low speed whisk to cool slightly while you prepare your dry ingredients.
Place a 3 quart bowl on your kitchen scale and tare it out to 0g. Add in cake flour until it reads 50g, tare it out add in the unbleached flour until reads 300g. Tare it out again and add the sugar until it reads 440g. Add in 1 tsp of baking soda, mix lightly with a fork and set aside. In a small bowl add in the eggs, buttermilk, and vanilla mix with a fork to combine.
The cocoa mixture should be cool turn off the mixture, add in half of the flour mixture, and half of the egg milk mixture. Whisk on medium for 1 minute. Turn off the mixer, scrape down the sides and add in remaining flour and egg mixture. On medium speed mix for 1 minute until well combined and smooth. Divide into the prepared cake pans. Bake for 35 minutes, rotate the pans front to back, left to right, and bake 15-20 min more until a toothpick inserted in center comes out clean.
(If you want to be completely pedantic, like I am, place the cake tin on the food scale and tare it out to 0g. Pour in 700g and replace with second cake tin pour in 700g. This should be all of your cake batter divided as equally as possible between the two tins. Keep adding in 25g increments of remaining batter to each tin until you get the weight as close to even as possible.)
Once the cake is cool prepare your assembly area. Have your frosting, turn table with your serving plate on it, raspberries, chocolate shavings, and cake layers ready.
Place a small blob of the frosting on the serving plate to hold the cake in place. Place it top side down, add about ½ cup of frosting to the middle and spread evenly. Arrange one pint of raspberries on the frosting and cover with a bit more frosting to create an even layer of frosting for your next layer of cake. Place the next layer on, top side down again. Cover the entire cake with a thin layer of the buttercream to set the crumb. Refrigerate for 15-20 minutes until the frosting is firm to the touch. Add the remaining cream to the cake and be sure to smooth the sides out evenly and flat. Refrigerate for 15-20 minutes until the frosting is firm to the touch. In a bowl toss the chocolate shavings and raspberries until mixed up. Gently pour on top the cake. If some fall down the sides that is OK! That makes it look even more sexy 😉
Frosting Instructions
Prepare a medium sauce pan with 1″ of water and set to a low simmer.
In a 2 quart bowl add in the egg whites and sugar whisk until well combined and slightly foamy. Place over the simmering water continue to whisk until you can no longer feel the sugar in the mixture. It should just feel smooth and glossy.
Transfer to the bowl of your stand mixer and whisk on high speed until cool, about 7-10 minutes. While the egg whites are whisking in the stand mixer, in a second add the chopped chocolate and cocoa powder and melt over the simmering water until smooth. Remove from the heat and allow to cool. Mixing will help the chocolate cool faster.
Once the egg whites are cool with the mixer still on high begin adding in the butter 4 tbsp at a time. Once all the butter is in the mixture will look split. Keep whisking and it will come together and look like a frosting.
Add in the cool chocolate and whisk until completely combined. Taste, for sweeter frosting add in powdered/frosting sugar until desired sweetness. Mix until combined, and use immediately or freeze for up to a month.