This Portuguese Sponge Cake shows how to reinvent a much loved traditional Portuguese dessert, Pao de Lo, and turn it into something spectacular.
What makes this modern take on a traditional cake particularly special is the addition of orange zest to the sponge cake batter and soaking the bottom sponge layer in orange liqueur. Both of these steps are entirely optional but they do add to the cake's wow factor.
Add in the gorgeous Vanilla Bean Pastry Cream, generous helpings of fresh fruit and a little whipped cream and this is not your everyday sponge cake.
I've always loved Portuguese desserts. Portuguese Custard Tarts hold a special place in my heart – and now this sponge cake recipe has added another Portuguese cake delight to my life.
The cake virtuoso behind this Portuguese Sponge Cake creation is Portuguese Girl Cooks.
If you're looking for interesting sponge cake recipes, maybe I can tempt you with this Chocolate Victoria Sponge?

Portuguese Sponge Cake Recipe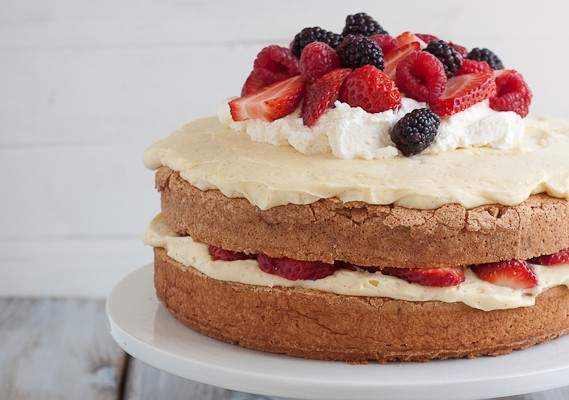 Ingredients
For the cake:
6 eggs, at room temperature and separated
1½ cups (210g) all-purpose flour
1½ cups (300g) granulated sugar
¾ teaspoon baking powder
pinch of salt
zest of 1 orange (optional)
1 tablespoon orange juice (you may use water also)
Orange liqueur for soaking sponge (or liqueur of your choice)
For the Vanilla Bean Pastry Cream:
2 cups (17 fl.oz) milk (I used whole)
1 vanilla bean scraped and seeded, or 2 teaspoons pure vanilla extract
½ cup plus 1 tablespoon (112g) granulated sugar
1 egg
3 egg yolks
¼ cup (32g) cornstarch
For the Whipped Cream:
1½ cups (12 fl.oz) heavy whipping cream
2 tablespoons powdered sugar
Extra fruit to decorate the cake

Happy baking!